IN PASSING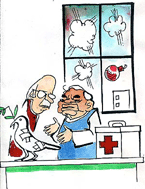 India will not deviate from its chosen path!
by Sandeep Joshi
4-month RI for ADC
MANSA, Aug 11 — Mr Balwant Singh Shergill, Additional Deputy Commissioner (Development), Sangrur, has been sentenced to four months' rigorous imprisonment (RI) and fined Rs 2000 for breaching the award of a labour court announced on November 30, 1990, in favour of an employee of the Panchayat Samiti, Budhlada, Ms Narinderpal Kaur.

Haryana violates Constitution?
CHANDIGARH, Aug 11 — The appointment (or "retaining" as the Haryana Government terms it) of the former Chairman of the Haryana Public Service Commission, Mr L.D. Mehta, as an Additional Advocate-General has raised several constitutional questions.




Easy money lures youths to be eunuchs
JALANDHAR, Aug 11 — Easy money and comparatively lesser work pressure is luring scores of young and middle-aged idles of Doaba region of Punjab to undergo castration and join the ranks of eunuchs, easily recognised from their peculiar style of clapping and singing, colourful attire and forcible collection of money at the time of the birth of a child in rural as well urban areas of the entire northern region.
EARLIER STORIES
(links open in a new window)
Srinagar car blast kills 12
August 11, 2000
Pak sabotaged peace process: Advani
August 10, 2000
HP flood havoc: herculean task ahead; Kinnaur area remains cut off
August 9, 2000
PM: J&K talks can go beyond statute
August 8, 2000
SAD not to pull out of NDA
August 7, 2000
Govt drops federal agency plan
August 6, 2000
Killings not to hinder talks: PM
August 5, 2000
Centre, Hizb agree to set up panels
August 4, 2000
Night of massacres leaves 105 dead in valley
August 3, 2000
150 feared dead in HP flashfloods
August 2, 2000
Veerappan kidnaps thespian Rajkumar
August 1, 2000