THE TRIBUNE MAGAZINES
On Mondays


On Sundays

On Saturdays

Send troops to valley, Pak urged
ISLAMABAD, Aug 12 — Hizbul Mujahideen chief Syed Salahuddin today urged Pakistan to send troops to the Kashmir valley even if it means a war.
Punjab to take no chances
CHANDIGARH, Aug 12 — The escalated violence in the Kashmir valley has made security officers in Punjab sit up. Three bomb blasts in March, June and July this year claimed 16 innocent lives and injured 33 others. This only shows that all is not well in Punjab, senior police officers here admit.



Maharaja's chariot wheels dumped
AMRITSAR, Aug 12 — Chariot wheels that date back to Maharaja Ranjit Singh's time have been lying dumped under broken furniture in a room of Government Primary School for the past more than two years.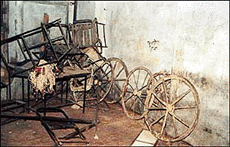 The rare wheels of Maharaja Ranjit Singh's chariots lie in an unlocked room being used by a government primary school in the shahi astabal (royal stable). — Photo by Raman
EARLIER STORIES
(links open in a new window)
ISI agent held, RDX seized
August 12, 2000
Srinagar car blast kills 12
August 11, 2000
Pak sabotaged peace process: Advani
August 10, 2000
HP flood havoc: herculean task ahead; Kinnaur area remains cut off
August 9, 2000
PM: J&K talks can go beyond statute
August 8, 2000
SAD not to pull out of NDA
August 7, 2000
Govt drops federal agency plan
August 6, 2000
Killings not to hinder talks: PM
August 5, 2000
Centre, Hizb agree to set up panels
August 4, 2000
Night of massacres leaves 105 dead in valley
August 3, 2000