Saturday, August 19, 2000,
Chandigarh, India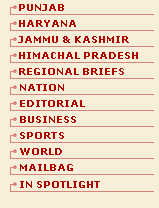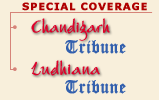 S P O T L I G H T
Strong quakes hit Japan islands
TOKYO, Aug 18 (AP) — Two strong earthquakes rocked a chain of volcanic islands off Tokyo today, sending rocks falling on to cars. Earlier today, another earthquake, with a preliminary magnitude of 4.0 jolted Tokyo.
6 LTTE men killed
COLOMBO, Aug 18 (AFP) — The government forces shot dead at least six Tamil Tiger rebels and lost one of their own men as the air force kept up attacks on guerrilla concentrations, officials said today. Meanwhile, officials said the air force attacked suspected positions of the LTTE in the Jaffna peninsula and the northern mainland.
Russian refinery fire
MOSCOW Aug 18 (AFP) — A huge fire raged today in an oil refinery south-east of Moscow, engulfing three storage tanks in flames, Interfax reported, quoting Moscow City officials. Fire officials said the blaze was spread over 400 sq m at the refinery in Kapotnya.