Sunday, August 20, 2000,
Chandigarh, India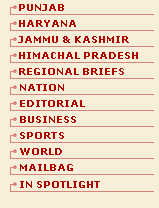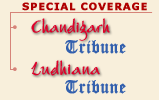 S P O T L I G H T
Bodies of three students found
PATNA, Aug 19 (PTI) — Tension is running high under Imamganj police area of Patna district with the recovery of bodies of three students from a rivulet near Bedauli High School, where the police had fired in the air to disperse a rampaging mob of students. Official sources said here that the police yesterday opened fire in the air to disperse a mob of students who indulged in vandalism while blocking the Jehanabad-Arwal road near Bedauli High School in protest against alleged assault of a student Ravindra Kumar by an ultra outfit.
Mudslide threat
TOKYO, Aug 19 (Reuters) — Residents of an island south of Tokyo dusted themselves off and braced for mudslides today after a volcanic blast sent a pillar of ash 8,000m into the sky coating the island in a blanket of grey. No one was injured in yesterday's eruption on Miyakejima island and many of the over 2,000 persons evacuated to shelters headed home today to survey the damage and clear away ash.
35 bodies found
SHAHDOL (MP), Aug 19 (PTI) — Bodies of 35 persons, including seven women and a child, were fished out this afternoon from the Banas river in which a private bus carrying more than 60 passengers was swept away yesterday. Army helicopters had been pressed into service for relief and rescue operations and the help of expert divers had been sought to locate bodies of the victims at the site, about 100 km from here, state officials said here today.
Censorship to stay
COLOMBO, Aug 19 (AP) — The government today rejected the newspaper editors' demand that the media censorship be lifted in view of the forthcoming parliamentary elections. "The government does not need to lift the censorship because it only concerns sensitive military information, Deputy Media Minister Anura Priyadharshana Yapa told AP.