Monday, August 28, 2000,
Chandigarh, India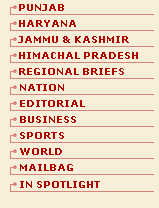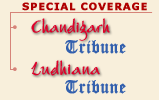 S P O T L I G H T
5 soldiers hurt in shelling
Tribune News Service
JAMMU, Aug 27 — Five Indian soldiers were wounded, three of them critically, when Pakistani troops resorted to heavy shelling and firing in Nowshehra sector of Rajouri today. The police said since morning the Pakistani troops resorted to unprovoked firing and mortar shelling in which five Indian soldiers were wounded. The Indian troops retaliated and smashed four Pakistani bunkers.
Officials to pay for undertrial's death
NEW DELHI, Aug 27 (UNI) — Taking serious note of the death of Dipali Das, a pregnant woman prisoner, in Dibrugarh jail on April 1, 1997, due to denial of timely and requisite medical treatment, the National Human Rights Commission has directed the Assam Government to pay an immediate interim relief of Rs 100,000 to the dependents of the victim. NHRC sources told UNI on Sunday that the commission has also asked the state government to recover the amount from the delinquent public officers for failure to perform their duties resulting in the death of undertrial.
Army recruitment racket busted
HYDERABAD, Aug 27 (UNI) — Police personnel belonging to the east and north zone taskforce have busted a recruitment racket and apprehended one person. Police said here on Saturday that based on information supplied by military intelligence, taskforce teams raided the house of Ajith K. Nair, who posed as a junior commissioned officer. Nair, who was in debt after his sister's wedding, began duping unsuspecting youths by offering to provide jobs in the military in return for money. He even issued fake call letters.