Tuesday, August 29, 2000,
Chandigarh, India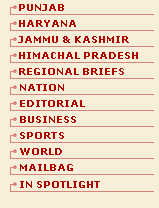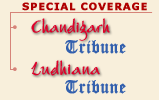 S P O T L I G H T
Veerappan's major demand met
BANGALORE, Aug 28 (PTI) — Bowing to a major demand of forest brigand Veerappan, the Karnataka Government today dropped all charges against 121 of his suspected associates, clearing the decks for journalist-emissary R.R. Gopal to set out on his third mission to the jungles, expected tonight, to secure the release of Kannada film icon Rajkumar and three others.
Tower blaze put out
MOSCOW, Aug 28 (Agencies) — Firefighters today put out the blaze at the Moscow TV tower after more than a day of battling thick smoke and intense heat, hundred of metres above ground as the reports said three persons trapped in an elevator are believed to have been killed. The fire that gutted the landmark tower was liquidated at 1340 GMT (1910 IST), 26 hours after it broke out.
3 Trinamool men shot
MIDNAPORE, Aug 28 (UNI) — At least three Trinamool Congress activists were gunned down and more than 16 injured, three of them seriously, by marauding CPM workers at Khetua village under the volatile Keshpur police station today.