Friday, September 1, 2000,
Chandigarh, India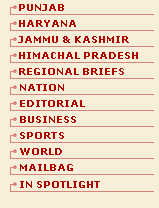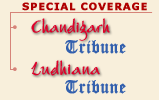 S P O T L I G H T
16th law panel constituted
NEW DELHI, Aug 31 (UNI) — The Centre has constituted the 16th Law Commission of India under Justice B. P. Jeevan Reddy as Chairman for three years with effect from September 1. Dr N.M. Ghatate, a member of the outgoing commission, has been appointed as a member of the 16th Law Commission as well. He is a senior advocate connected with the International Society of Law, an official press note said here today. The commission would have three full-time members and a Member-Secretary. Member Secretary T. K. Vishwanathan, who belongs to the Indian Legal Service, is ex-officio secretary to the Centre.
CPI (ML) plans protest
NEW DELHI, Aug 31 (UNI) — The CPI (Marxist-Leninist) (Liberation) today condemned the police firing at Arrah in Bihar yesterday and called for a statewide protest on September 2. The party will hold road blockades all over the state as a part of a agitation to be organised in Bihar and elsewhere, including Delhi. In Delhi, Anti-police repression demonstration will be organised on September 2, a press note released by the party said.
SP workers held
PADRAUNA, Aug 31 (UNI) — Chief General Secretary of the Samajwadi Party Shivpal Singh Yadav and Leader of Opposition in Uttar Pradesh Vidhan Parishad Ahmed Hasan along with 300 party workers were arrested today for defying curfew restrictions here. Mr Yadav later told newsmen that they were arrested while going to Chauraiyya village to meet the family of Dullan who was killed in police firing on August 29 last.