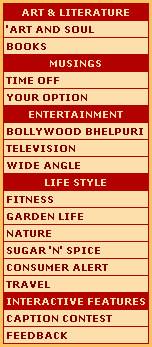 Sunday, September 3, 2000
Garden Life
Drape your garden in a riot of colour
By Satish Narula
AT certain times of the year, gardens display a riot of colours, mostly contributed by seasonal or annual plants. But the bonanza is short-lived, and there is a long gap thereafter. However, to fill the void, there are shrubs with their glorious display of blooms that last for a longer period and, if judiciously selected, put forth blooms one after the other.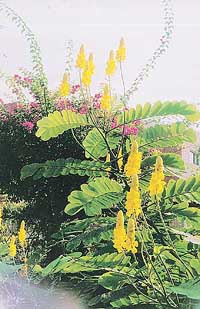 Unlike the plants that flower in summer and winter, the shrubs are planted only once, and are least demanding. These are hardy in nature, and take pruning well if the need is to contain them. This character of some of the shrub species has been exploited to create excellent topiary. The more you clip or subject such plants to pruning, the more dense they become. Since shrubs are also favoured for ornamental foliage, they are a source of great pleasure to the planter. Some of the shrubs are a favourite with Ikebana lovers for there is no dearth of material for decoration as these shrubs are found in plenty.
A list of such shrubs is too exhaustive and far beyond the scope of this write up, but besides bougainvillaea, mussaenda, Iscora, poinsettia, Euphorbia etc., there are others that have not been exploited.
Calliandra is liked both for its graceful foliage and beautiful powder-puff-like flowers that appear in abundance. They come in crimson, red or pure white, and completely envelope the shrub twice a year. The one with pinkish powderpuff-like flowers does well even in slight shade.