Sunday, September 3, 2000,
Chandigarh, India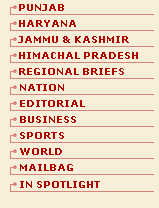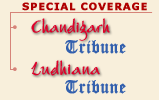 S P O T L I G H T
25 killed in shed collapse
TUNDLA (UP), Sept 2 (PTI) — At least 25 persons, mostly labourers, were killed and nine injured when a locomotive shed, which was being demolished, collapsed on them at the railway station, 28 km from Agra, this morning. Army help from Agra had been sought by the railway authorities to help rescuers in pulling out the bodies and possible survivors as some people were still feared trapped under the debris of the collapsed structure, officials said.
17 die in mishap
MADURAI, Sept 2 (PTI) — Seventeen persons were killed and eight injured when a van carrying tourists plunged into a roadside farm well at Thalapathi Sammuthiram, 40 km from Tirunelveli, early today, the police said. The driver lost control of the vehicle while negotiating a corner, hit a boy and rammed into the wall of the 16-metre well before plunging into it.
Joshi case
MUMBAI, Sept 2 (UNI) — The case against former Maharashtra Chief Minister Manohar Joshi , his son-in-law Girish Vyas and four others in the alleged illegal construction at Pune by Mr Vyas was today adjourned till September 30. Additional Chief Metropolitan Magistrate N.M. Gosavi adjourned the case filed by Janata Dal activist Sanjeev Chimbulkar.
Bomb hoax
CALCUTTA, Sept 2 (PTI) — An intense search was launched at the Netaji Subhas Chander Bose International Airport here following a hoax call, saying that a bomb had been planted in one of the buildings in the airport area today. The search was launched following the call at around 1 p.m. and was called off after about four hours.
Uproar in House
GUWAHATI, Sept 2 (UNI) — Unruly scenes were witnessed in the Assam Assembly today as the Congress protested against Chief Minister Prafulla Kumar Mahanta's allegation that the former had links with the ULFA. Mr Mahanta made the allegation yesterday at New Delhi demanding that the Congress be banned from contesting election for having alleged nexus with the ULFA.