Monday, September 4, 2000,
Chandigarh, India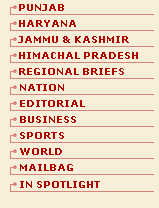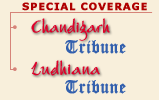 M A I N N E W S
Cops clash as minister watches
From Praful Chander Nagpal
FAZILKA, Sept 3 — A brawl between Mr Ajay Malooja, DSP, Fazilka, and Mr Talwinderjit Singh, Circle Inspector, Abohar, allegedly took place in a hotel here last evening in the presence of Mr Surjit Kumar Jyani, and Forest Minister, Punjab, over the arrest and release of some persons. The dispute took such a serious turn that both police officers reportedly took out their revolvers and pointed these at each other.
The cause of the dispute is stated to be the prestige of two factions of SAD-BJP politicians with each faction pressurising the DSP and the Circle Inspector to take opposing stand.
According to details available, Prem Kumar and Shopat Rai, both residents of Nihal Khera village, had taken some land on lease from Vikas Rai and Shopat Rai. The payment of lease amount was made by the former to the latter through a cheque which reportedly bounced. Upon this Vikas Rai and Shopat Rai lodged an FIR under Sections 420 and 204 of the IPC against Prem Kumar and his accomplice at the Khuian Sarvar police station.
Mr Gurcharan Singh Pherurai, SSP, Ferozepore, directed Mr Talwinderjit Singh to conduct an investigation into the case. According to police sources, Vikas Rai and Shopat Rai reportedly approached Mr Sukhbir Singh Badal and requested him to direct Mr Talwinderjit Singh to arrest Prem Kumar and Shopat Rai who had cheated them. Mr Sukhbir Singh Badal reportedly directed Mr Talwinderjit Singh to nab the accused. On the other hand, the accused Prem Kumar and Shopat Rai reportedly sought help of Mr Jyani who in turn directed Mr Malooja not to arrest them. However, Mr Talwinderjit Singh, arrested Prem Kumar and Shopat Rai and presented them before the Judicial Magistrate who remanded them in judicial custody. This reportedly angered Mr Jyani and Mr Malooja who reached the hotel where Mr Talwinderjit Singh was staying. Both police officers exchanged hot words and threatened each other with dire consequences and pulled out their revolvers in the presence of the minister.
However, Mr Gamdoor Singh, SHO, Fazilka, who was present on the scene intervened and averted a major clash.
When contacted by this correspondent Mr Malooja said that as Mr Talwinderjit Singh had misbehaved with him he had placed him (Mr Talwinderjit Singh) under suspension with the consent of the SSP. He denied having pulled out his revolver. Eyewitnesses confirmed the incident.