Monday, September 4, 2000,
Chandigarh, India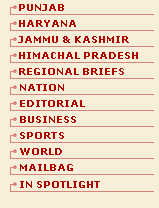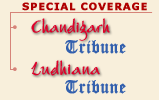 S P O T L I G H T
BJP, Cong leaders join Trinamool
CALCUTTA, Sept 3 (PTI) — The Trinamool Congress in West Bengal today received a boost when a senior leader of its electoral ally the BJP, Mr Paras Datta, a former general secretary of the BJP's state unit and who had a feud with union minister Tapan Sikdar, and veteran congress MLA Motahar Hussain joined the party.
8 Cong men expelled
PATNA, Sept 3 (UNI) — The Bihar State Congress Committee (BSCC) today expelled eight state leaders for their "anti party" activities. Those expelled included two former legislators Digvijay Partap Singh and Rameshwar Paswan. The others were Mr Sauud Alam, Mr Dinesh Kumar Yadav, Mr Jawala Prasad Singh, Mr Mukteshwar Singh, Mr Satish Rajak and Mr K.N. Das.