Wednesday, September 6, 2000,
Chandigarh, India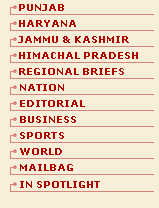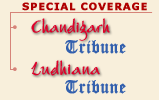 C H A N D I G A R H
20 hurt as farmers, police clash
CHANDIGARH, Sept 5 — The clash between Punjab farmers, protesting against the government not procuring paddy from the mandis, and the police near Matka Chowk this afternoon left as many as 20 persons wounded. The injured included seven cops and women.
18 vehicles to be withdrawn
Austerity axe falls on PUDA officials
CHANDIGARH, Sept 5 — The axe of the Punjab Government's austerity measures has finally fallen on officials of the Punjab Urban Planning and Development Authority (PUDA). Withdrawal of staff vehicles of at least 18 officials and economy in the consumption of fuel of cars being used by senior officials of the authority is also on the cards.
Jaitley to open new IT tribunal office today
CHANDIGARH, Sept 5 — The Union Law Minister, Mr Arun Jaitley, will formally inaugurate the new premises of the Income Tax Appellate Tribunal at the Sector 9 Kendriya Sadan building here tomorrow.
UTI told to pay due amount
CHANDIGARH, Sept 5 — Taking up a consumer case filed here against the Chairman of Unit Trust of India (UTI) on allegations that the UTI had not released the entire amount due to the complainant under 200 unit certificates which she possessed, the District Consumer Disputes Redressal Forum here directed the UTI to release the due amount with immediate effect and also pay Rs 550 to the complainant as costs of litigation incurred by the complainant.
MLA hostel rent hiked after 34 yrs
September 5, 2000
Vocational courses fail to deliver results
September 4, 2000
Who gets Anandgarh water project?
September 3, 2000
'IT bigwigs to meet UT Admn today
September 2, 2000
'Don't use Army for internal security'
September 1, 2000
MCC defers decision on guide maps
August 31, 2000
MC workers' strike fails to affect residents
August 30, 2000
Army given charge of water, power supply lines
August 29, 2000
Employees' proposed strike unjustified: Administration
August 28, 2000
4 crore to be spent on removal of Sukhna silt
August 27, 2000