Tuesday, September 12, 2000,
Chandigarh, India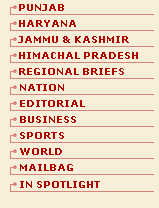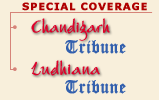 S P O T L I G H T
No Pak power for India
ISLAMABAD, Sept 11 (AFP) — Pakistan today said it could not sell its electricity to India as the country had no surplus energy. "Keeping in view our own current requirement, we cannot provide electricity to India," the Ministry of Water and Power said. Ministry officials denied reports that some independent power producers recently requested the government to grant permission for electricity exports to India.
IAS officer convicted
JABALPUR, Sept 11 (PTI) — The Madhya Pradesh High Court today sentenced the Principal Secretary of the state's local Self-Government Department, Mr U.K. Sanwal, IAS, to one week's imprisonment in a case of contempt of court. The sentence was awarded on a petition filed by Mr P.R. Kashyap, Superintendent of Sakti Nagar panchayat in Bilaspur district.
Russian N-plant
MOSCOW, Sept 11 (Reuters) — Reactors at Russia's top secret Mayak Nuclear Fuel Reprocessing Plant were shut down over the weekend due to an accidental power cut, Itar-Tass news agency reported today, but no harmful materials were released.