Wednesday, September 13, 2000,
Chandigarh, India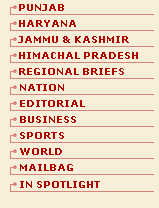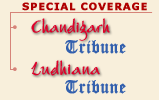 S P O T L I G H T
3 killed as Trinamool, CPM men clash
MIDNAPORE (West Bengal), Sept 12 (UNI) — In renewed violence in this trouble-torn district, three persons were killed and 20 injured in clashes between the CPM and Trinamool Congress supporters today. The police said a gunbattle began in at least seven villages in Belda and Potashpur areas.
Ajay Sharma quizzed
NEW DELHI, Sept 12 (PTI) — Former test cricketer Ajay Sharma was today questioned by Income Tax authorities in connection with the raids conducted at his residence on July 20. Sharma, who returned from London last night, was summoned to the Income Tax office this afternoon and grilled for nearly four hours, highly placed IT sources said here.
Ranga's treatment
NEW DELHI, Sept 12 (PTI) — A government appointed committee, which went into the treatment provided to late Rangarajan Kumaramangalam at a private hospital, has submitted its report. Union Health Minister C.P. Thakur said the ministry was studying the report. "It will take another one or two days before we come out with the report," he said.