Friday, September 15, 2000,
Chandigarh, India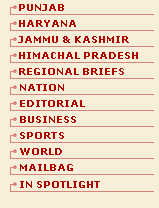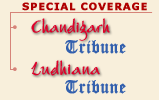 S P O T L I G H T
Militants kill two jawans
JAMMU, Sept 14 (PTI) —Two Army jawans were killed and four injured, two of them seriously, in a grenade attack by militants in the Tankisal area of Doda district, officials said here today. An Army column of 12 Rashtriya Rifles was moving for an operation in the Sarachi forest belt, when militants attacked them with grenades last evening, the officials said.
Non-iodised salt
NEW DELHI, Sept 14 (PTI) — Brushing aside the opinion of majority of states and medical community, the government has lifted the ban on sale of non-iodised salt, with effect from September 30. All states except Kerala and Bihar had opposed the centre's proposal to lift the ban, describing the move as "retrograde" and against the interests of public health.