Saturday, September 16, 2000,
Chandigarh, India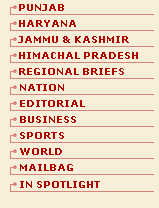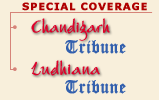 S P O T L I G H T
SA prosecutor coming today
DURBAN, Sept 15 (PTI) ó South Africaís chief prosecutor for the Edwin King Commission of Inquiry into corruption in cricket Shamila Batohi is reaching New Delhi tomorrow to continue her investigations into the match-fixing scandal involving sacked captain Hansie Cronje. Ms Batohi, of Indian origin, left Johannesburg international airport for India with her colleague this afternoon on a mission to acquire taped conversations between Cronje and Indian bookmakers which are in custody of the Delhi police.
MCC militants kill one
GAYA, Sept 15 (PTI) Extremists of the outlawed Maoist Communist Centre (MCC) struck again today in a span of three days and killed a person near Imamgunj in Biharís Gaya district, the police said. The ultra outfit had earlier killed 12 persons.