Monday, September 18, 2000,
Chandigarh, India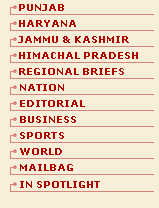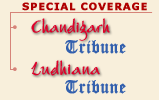 S P O T L I G H T
Paswan to name party on Nov 23
JAIPUR, Sept 17 (UNI) — JD(U) leader and Union Communications Minister Ram Vilas Paswan today declared that he would form a new party on November 23 if there was no improvement in the party functioning by then. However, the new party would be part of the National Democratic Alliance (NDA) and there was no question of leaving it, Mr Paswan said addressing a news conference here. Refusing to divulge the name of the party, he said: "Let the suspense remain till November 23."
13 killed in bus accident
MOSCOW, Sept 17 (DPA) — Thirteen persons were killed today when a passenger bus fell off a ferry into the Kama river in the Russian Federal Republic of Tatarstan, authorities said. The Russian Ministry of Emergencies said only two persons aboard the bus survived, Interfax news agency reported.