Wednesday, September 20, 2000,
Chandigarh, India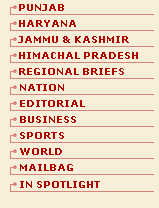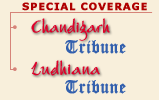 S P O T L I G H T
22 troops killed in landmine blast
COLOMBO, Sept 19 (UNI) — Twentytwo soldiers were killed when Tamil Tiger rebels exploded an army truck in eastern Trincomalee this evening, according to a senior Lankan army spokesman. The incident occurred at 3.30 p.m. in Vilgaumvihara, which is situated about 10 km from Trincomalee town, 340 km from here. All 22 soldiers travelling in the truck became victims of the terrorist attack. Initially when the landmine exploded, a few soldiers who had escaped the impact started running for cover but were shot dead by terrorists using small firearms, Brig S.G. Karunaratne.
Akash testfired
BALASORE, Sept 19 (UNI) — India's most sophisticated surface-to-air missile Akash was successfully testfired from Chandipur-on-sea, about 15 km from here, at 1.20 p.m. today. According to defence sources, the missile, similar to the American Patriot missile, has a range of 25 km with a capacity of striking many targets. This is the second consecutive test in a week and ninth test of the series.

Sakshi Maharaj
NEW DELHI, Sept 19 (PTI) — Samajwadi Party MP Sakshi Maharaj was today sent to Tihar jail under judicial custody by a city court for allegedly giving inflammatory speech against a particular community here on the eve of the Lok Sabha elections. Metropolitan Magistrate S.K. Aggarwal remanded him to judicial custody till September 27 after he surrendered before the court.