Friday, September 22, 2000,
Chandigarh, India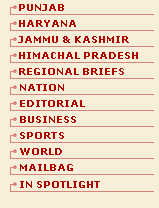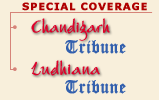 S P O T L I G H T
India may withdraw moratorium
NEW DELHI, Sept 21 (PTI) — National Security Adviser Brajesh Mishra said today India could withdraw the moratorium on nuclear tests if it found that its supreme national interests were in jeopardy. "India will continue with the moratorium subject to the supreme national interests. There is nothing new except that we have specified a little more that moratorium is not time-bound," Mr Mishra told Doordarshan.
Azhagiri men torch buses
MADURAI, Sept 21 (PTI) — In continued violence by supporters of Tamil Nadu Chief Minister M. Karunanidhi's son M. K. Azhagiri, two more buses were torched early this morning even as the police warned that arsonists would be booked under Goondas Act. The supporters were protesting against the statement issued by DMK General Secretary K. Anbhazhagan asking partymen not to have any truck with Azhagiri, who is reported to have been disowned by Karunanidhi.
Lankan violence
COLOMBO, Sept 21 (UNI) — In stepped-up violence in north-eastern Sri Lanka, 24 persons were killed even as a large quantity of arms and ammunition were recovered from separatist Tamil Tigers after causing heavy casualties during separate confrontations. A Defence Ministry spokesman said troops confronted groups of terrorists in Colombuthurai, Chemmani, Ponmar and Ariali areas of Raffia, killing eight Tamil Tigers. In Kilaly, troops engaged a terrorist land rover with mortars, killing six. Three soldiers were also killed in confrontation.
Faizabad tense
FAIZABAD, Sept 21 (UNI) — Tension mounted in the city after the death of a person who was injured in a clash between two groups last week. Irate residents blocked roads in Riqabganj and some other areas in protest against the death of Totaram Sindhi. Senior Superintendent of Police Prem Prakash Srivastava said strict security arrangements were being made for the bandh called tomorrow by the Yuva Vyapar Mandal.