Saturday, September 23, 2000,
Chandigarh, India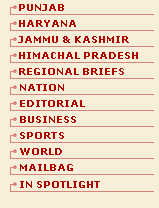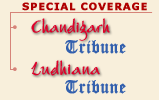 S P O T L I G H T
More DA for central staff
NEW DELHI, Sept 22 (PTI) — Central government employees are likely to get 3 per cent increase in dearness allowance (DA) retrospectively from July this year, which will put a burden of Rs 1,200 crore to the exchequer during the year. The increased DA is expected to be cleared by the Cabinet when it meets here tomorrow, official sources said today.
15 feared killed
HAJIPUR, Sept 22 (UNI) — At least 15 passengers were feared killed when a 11,000-volt electric wire fell on a bus near Khoksa Chowk in Vaishali district early today. District Magistrate Gautam Goswami, confirming the incident, said the bus was packed to capacity. The bus was on its way to Hajipur from Samastipur.