Monday, September 25, 2000,
Chandigarh, India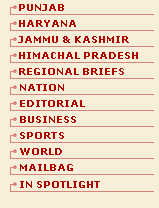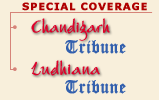 S P O T L I G H T
12 Naxalites arrested
WARANGAL (Andhra Pradesh), Sept 24 (UNI) — The district police today arrested 12 Naxalites of the Radical Student Union, a wing of the banned People's War Group (PWG), who were involved in murders and arson during the past four years. The SP told newspersons that the offences committed by the group included the murder of a Mandal Prajara parishad president and a police constable.
Narcotics seized
HYDERABAD, Sept 24 (PTI) — The city police has unearthed a major drug smuggling racket and arrested two persons, besides seizing over 2 tonnes of mandrax tablets and raw materials worth Rs 20 crore in the international market. Acting on a tip-off, the commissioner's task force yesterday raided a godown of Rana Transport at Bowenpally in Secunderabad and seized huge quantity of narcotic drugs.
Nandankanan lion dies in transit
HYDERABAD, Sept 24 (PTI) — a 14-year old lion died at Srikakulam in Andhra pradesh during transit from Orissa's overcrowded Nandankanan zoo to Visakhapatnam yesterday, official sources said today. A postmortem revealed that the lion died due to stress and exhaustion, official sources said, adding that the remaining big cats were healthy.