THE TRIBUNE MAGAZINES
On Mondays


On Sundays

On Saturdays

Army chief 'passing on blame'
Brig Surinder Singh's interim reply
CHANDIGARH, Sept 28 — In his interim reply, Brig Surinder Singh of Kargil fame today alleged that the show-cause notice issued to him was "the outcome of vindictive, biased, motivated and mala fide action on the part of Chief of Army Staff".
Cabinet expansion next week?
Shiv Sena demands its pound of flesh
NEW DELHI, Sept 28 — There are indications that Prime Minister Atal Behari Vajpayee has begun the exercise connected with the long-awaited expansion-cum-reshuffle of his Cabinet.
Moderate oil price hike by tomorrow
NEW DELHI, Sept 28 — The government will hike the price of oil by Saturday but the good news is that it will not be too steep. The Finance Ministry has agreed to reduce import and excise duties and issue oil bonds that will work out to two-thirds burden of the estimated Rs 23,600 crore oil pool deficit by the end of the fiscal year.
IN PASSING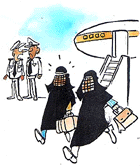 Who told you? They are Indian players coming from Sydney!

by Sandeep Joshi
Faulty EVMs replaced in Sunam
Protest by 'sanjha morcha' men
SUNAM, Sept 28 — Activists of the Congress and the SHSAD raised a hue and cry when told the presiding officers had found that only five buttons of the control unit of the 14 electronic voting machines (EVMs), instead of 13, were working. The remaining eight buttons of each EVM failed to register votes during checking of the machines.
Veerappan's hostage escapes
CHENNAI/MYSORE, Sept 28 — In a sensational turn to the 60-day-old hostage crisis involving film star Rajkumar, one of the four captives, Nagappa, escaped from the hideout of forest brigand Veerappan, in the early hours today.
Kale Kachhewale possess I-cards!
BATHINDA, Sept 28 — In a unique modus operandi, members of Kale Kachhewale gang, involved in countless murders, dacoities and robberies in the state, have been possessing character certificates issued to them by District Magistrates, Executive Magistrates and school heads, identity cards of political parties, photographs with senior officials and politicians to escape from the police net.
EARLIER STORIES
(links open in a new window)
Inter-state ban on sale of petro products goes
September 28, 2000
19 militants killed in encounters
September 27, 2000
17 rockets fired in Rajouri
September 26, 2000
States asked to share oil price burden
September 25, 2000
States asked to share oil price burden
September 25, 2000
Oil price hike in next 48 hours
September 24, 2000
All set for oil price hike
September 23, 2000
Advani drubs West Bengal on violence
September 22, 2000
10 Pak troops killed
September 21, 2000
Floods play havoc in West Bengal
September 20, 2000
PM's no to curbs under CTBT
September 19, 2000