Sunday, October 1, 2000,
Chandigarh, India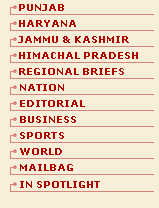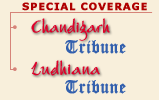 H I M A C H A L P R A D E S H
Shanta defends ministers
DHARAMSALA, Sept 30 — With Shanta loyalists being made the target of criticism by the rival camp, the Union Minister has now come out openly in defence of his men.
Mankotia's remark 'political'
KULU, Sept 30 — The HP state Ex-servicemen League should come forward for the welfare of the ex-servicemen and war-widows of the state and desist from using the platform for any political ends. Major R.C. Sharma, president of the Kulu and Lahaul Spiti unit of the league said in a press note issued here today said that statements issued by the state president of the league, Major Vijay Singh Mankotia, were against the non-political character of the league.
Form cooperatives, Dhumal tells youth
SHIMLA, Sept 30 — Mr Prem Kumar Dhumal, Himachal Chief Minister, said that 719 mini and micro hydel projects had been identified in Himachal Pradesh and has asked the youth to form cooperatives and take up these projects for which government would provide all possible assistance.
No free services at IGMC
SHIMLA, Sept 30 Patients will have to pay user charges at Indira Gandhi Medical College and its associated hospitals here from October 3 for diagnostic services.
Limits of parishad wards changed
BILASPUR, Sept 30 — Deputy Commissioner Jagdish Chander Sharma has issued a notification changing the limits of zila parishad Ward No 10 (Barmana) and Ward No 12 (Jukhala).
"Cancel foreign tour of bank top brass"
SHIMLA, Sept 30 — The HP State Cooperative Bank Employees Union has urged the state government to cancel the foreign jaunt of the top officials of the bank which will cost lakhs of rupees.
HP approves IT policy
September 30, 2000
Norms fixed for SC funds
September 29, 2000
Chief Secy reviews relief work
September 28, 2000
Sukh Ram heads real HVC: EC
September 27, 2000
HP jails to become reformatories
September 26, 2000
Kisan Passbooks for all by 2001
September 25, 2000
Sonia may be asked to nominate delegates
September 24, 2000
HP plans concrete highway
September 23, 2000
Rival Cong factions elect bodies
September 22, 2000
Delegates repose faith in PCC chief
September 21, 2000