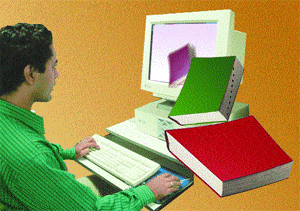 Numerous opportunities exist to choose the specific computer-related field, as per the interest and competence. The DTP or the Desktop Publishing is one such area, which has now gained a huge potential, both in India as well abroad. It involves writing and editing text, designing art work, graphics and illustrations, scanning photographs and modifying them digitally, typesetting and colour separations.
Desk Top Publishing job exists in almost every industry and for varied application, it is said to be among the fastest growing profession around the globe. Desk top publishing professionals are required in advertising and PR agencies, design firms, newspapers, book and magazine publishing houses, pre-Press service bureau, and in companies that have their own publicity and communication department.
The salary graph per annum is relatively higher for these professionals. Desk top publishers design layout of newspapers, magazines, brochures, posters, leaflets, art work, and Web pages with the help of computers. All those conventional tasks performed in a printing and publishing industry like, typesetting, film stripping, page layout design, and editing have now been replaced by the DTP.
Using a computer screen, the operator retrieves art work, graphic or text from the computer's memory and positions them into a page by using type styles, colour settings, size and layout patterns. This method eliminates the process of cutting and pasting of blocks of text, headlines and photographs. In the field of advertising, the DTP professionals are responsible for communicating the product and services of the client by designing posters, brochures and creating or scanning or modifying graphics and photographs to suit the requirement of customer. They also prepare proposals and presentations of advertising campaign and interact with the prospective clients. The software and the Internet services firms require DTP personnel for designing and maintaining Web pages, creating graphics and multimedia.
The DTP professionals need to be creative and should have a good sense of art and graphics. They should have a command over the language in which they work. Another important quality that they are required to possess is to perceive the customer preferences and likes. Whatever they write shall have varied readers — young and old, near illiterate to highly qualified, and a workman to executive. A successful DTP professional has therefore to be continuously aware and updated of the latest trend and software in the industry. Besides, having competence in various software and DTP program, he should have good editorial and planning skills.
Most employers, based on their requirement, hire persons with formal educational background, preferably in art or design work, communication, journalism and have sufficient proficiency in a DTP-related software. The job requires methodical and accurate working and therefore proper training is a must, for the beginner.
Mostly, respective employers impart on-the-job training to the beginner. The software that are most commonly used for DTP work are PhotoShop, Quark Xpress, Free hand, Word perfect, Illustrator, Page maker, Dream weaver, Flash, Fire work, Corel Ventura, Adobe framemaker, MS power point, Java and Templates. So, all those who aspire to plan a career in the DTP should have an exposure to at least a few of the above-mentioned software.
Almost all major universities and computer institutes are imparting DTP as a part of curriculum in the MCA, BCA or other courses. Here students, apart from the above-mentioned software, are also exposed to colour scanning, paint-and-bit map, quality control, editing of text, HTML page design and a variety of computer-aided translation tools.
There are several computer institutes, which conduct short term and crash courses to meet the growing demand of the DTP operators. These courses not only provide benefit to the students who want to pursue a career in the DTP, but also to the entrepreneurs who desire to set up their own unit, or working designers and professionals who want to enhance their skills.
IBM-certified institutes, conduct 20 weeks programme, which covers DOS, WS, Windows, Ventura, Corel draw, Page maker, etc. Indian education centre (IEC), having its branches all over the country, provide diploma in the DTP, graphic designing and printing, in their 16-week programme. The IEC has been authorised by IGNOU as their study centre for computer courses. Another institute ISCT, a division of the IIS Infotech, with over 100 centres, offers a 13-week DTP course, covering lectures on Adobe, DOS, Coral draw, Ventura, etc. Arena, a multimedia wing of Aptech, conducts a 3-months course on the DTP. They have a tie-up with Apple as a training partner, and are equipped with the DTP training software and hardware. The NIIT and NIMT (National institute of multimedia technology) also provide course relevant to the DTP.
As several companies are engaged in marketing, sales promotion, and other kinds of publicity of goods, they now require DTP trained persons who can produce materials relevant for the task. Persons qualified in the DTP skills may get employed as marketing communication co-ordinator, project administrators, technical writer, public relations representatives, editors, typesetters, press service manager, multimedia designers and electronic publishing specialists.
Telecommuting desktop publishing jobs are available on line for the benefit of the Internet surfers. These are — online consultants, Web developer, graphic designer and Web master, content writer, book cover designer and page maker. Usually the DTP jobs are not advertised in newspapers. An individual has to search them either on the Web or through indirect sources. Here are few tips for those who are on lookout for being in the DTP avenues.
A beginner should create portfolios for reference to prospective employers. He can also provide these portfolios to various agencies for practical application, free of charge, for getting publicity. This helps in evaluating the skills and work of a DTP professional and helps him in getting recognition.
Another way of searching for desktop publishing jobs is to become a trainee on temporary basis in an advertising agency or publishing house. This saves cost of the organisation and helps them in evaluating the trainee, without any long-term commitment. The trainee can however get permanently employed after completion of the stipulated period, depending upon his work. The third way is through interaction with people, big and small, in the field of DTP and exchanging portfolios and thoughts. This not only builds contacts, but also helps in getting the desired job.
The remuneration earned by these persons may vary depending upon the industry and nature of job, but with experience, an individual can get a steep rise in the emoluments. The DTP professionals, especially those working for newspapers, usually work under tight time schedules and for extended working hours.
Because of constant working on a computer, they are likely to get exposed to ailments like back problem and eyestrain but the rewards and recognition that one gets far exceeds these drawbacks. Besides, the job allows a lot of scope for experimentation and learning which further helps in intellectual development of an individual. With its vast applications and growth potential, the DTP is definitely a career of this decade.