THE TRIBUNE MAGAZINES
On Mondays


On Sundays

On Saturdays

Pilot's widow wins Dausa LS seat
NEW DELHI, Oct 3 — Ms Rama Pilot, widow of Rajesh Pilot, rode the sympathy wave to win the Dausa Lok Sabha seat for the Congress defeating the nearest BJP rival Rohitashav Kumar by a margin of over 65,000 votes.
Mamata defers decision to quit
Vajpayee assures rollback
CALCUTTA, Oct 3 — The Railway Minister, Ms Mamata Banerjee, has deferred her decision to quit the Vajpayee ministry along with her senior colleague, Mr Ajit Kumar Panja, Union Minister of State for External Affairs, till October 6 after there was "a categorical assurance from the Prime Minister to slash down the prices of diesel, LPG and kerosene".
No-trust move rejected in Gujarat
GANDHINAGAR, Oct 3 — Amid uproarious scenes, the Gujarat Assembly today rejected by voice vote the Opposition's no-confidence motion against the two-and-half-year-old Keshubhai Patel ministry.
IN PASSING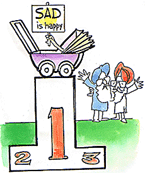 by Sandeep Joshi
Choudhury expelled from CPM
NEW DELHI, Oct 3 —Controversial CPM leader Saifuddin Choudhury, who demanded greater democratic functioning and transparency in party affairs, has been expelled from the party.
Cops fail to appear before riots panel
NEW DELHI, Oct 3 — The Delhi Government and the Delhi Police, accused of gross failure in maintaining law and order in the aftermath of Indira Gandhi's assassination on October 31, 1984, today failed to appear before Justice G.T. Nanawati Commission, set up by the NDA government to probe into the 1984 anti-Sikh riots.
Officials 'hound' miller to death
RAMPURAPHUL, Oct 3 — Gopal Chand Garg, a leading industrialist of this town and his wife Veenu Garg were allegedly driven to commit suicide by officials of the Punjab State Warehousing Corporation late last night. Police sources said Mr Garg and his wife Veenu Garg reportedly consumed poison at home last night.
EARLIER STORIES
(links open in a new window)
Mamata plans front sans BJP
October 3, 2000
Naik rules out cut in petro prices
October 2, 2000
PM expands ministry
October 1, 2000
Rao, Buta convicted in JMM bribery case
September 30, 2000
Putin's Pak visit raises eyebrows
September 29, 2000
Inter-state ban on sale of petro products goes
September 28, 2000
19 militants killed in encounters
September 27, 2000
17 rockets fired in Rajouri
September 26, 2000
States asked to share oil price burden
September 25, 2000
States asked to share oil price burden
September 25, 2000