Wednesday, October 4, 2000,
Chandigarh, India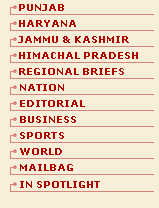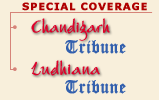 S P O T L I G H T
3 Dalits killed in Bihar
JEHANABAD, Oct 3 (PTI) — Three Dalits, including a woman, were killed today in a retaliatory attack by suspected outlawed Ranvir Sena landowners at Barheta village in the extremist-dominated Jehanabad district of Bihar following the killing of a former mukhia by People's War Group (PWG) ultras, the police said. PWG activists shot dead Lala Sharma, a former mukhia of Abgilla Panchayat at Barheta. Mr Sharma was district pramukh of Rashtrawadi Kisan Mahasangh, a frontal organisation of the Ranvir Sena.
Salman Khurshid
NEW DELHI, Oct 3 (PTI) — Salman Khurshid, who was recently replaced as Uttar Pradesh PCC President, was today appointed Chairman of AICC's new Department of Policy, Planning and Coordination. AICC spokesman Prithviraj Chavan will be the convener of the department.