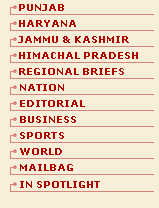 Thursday, October 5, 2000, Chandigarh, India

Vajpayee rules out immediate rollback
NEW DELHI, Oct 4 — In a dramatic reversal of stance, the Prime Minister, Mr Atal Behari Vajpayee, today ruled out an immediate rollback in the prices of petroleum products saying that a review would have to await his return from Mumbai after a knee operation.
PM may not expand Cabinet
NEW DELHI, Oct 4— Prime Minister Atal Behari Vajpayee is unlikely to enlarge his Cabinet in the immediate future as that will inevitably open the floodgates for the other constituents of the National Democratic Alliance government to seek additional ministerial berths.

Return of Sushma, family values (Edit page)
CAST YOUR VOTE
Will the conviction of former Prime Minister Narasimha Rao in the JMM bribery case help in combating corruption?