Thursday, Oct 5, 2000,
Chandigarh, India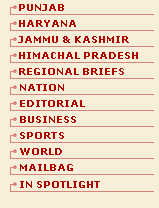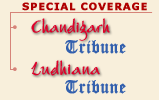 S P O T L I G H T
Captain gets 7-yr RI for rape
Tribune News Service
JAMMU, Oct 4 — Capt Ravinder Singh, has been sentenced to seven years of rigorous imprisonment for raping a young girl of Nougam village in Doda district eight months ago. A Defence Ministry press note said the imprisonment was awarded by court martial in its verdict announced on September 30. Capt Ravinder Singh has also been dismissed from the Army. It said the Captain had been posted in the Banihal belt with the Rashtriya Rifles for carrying out anti-terrorist operations. He was found to have raped the girl along with a Special Police Officer Bharat Bhushan.
'Crorepati' Navathe
MUMBAI, Oct 4 (PTI) —Harshvardhan Navathe who has earned the distinction of being the first "crorepati" of the popular game show "Kaun Banega Crorepati" (KBC), was introduced to mediapersons by Star Plus at a five-star hotel here tonight. He said "it was not monetary consideration but an opportunity to meet the matinee idol Amitabh that prompted me to participate in KBC". The 27-year-old Mumbai youth, son of a retired IPS official, still wants to achieve his dream of joining the IPS.
Padmanabhan's visit
NEW DELHI, Oct 4 (PTI) — The new Army Chief, General S. Padmanabhan, today left for Srinagar for a three-day visit to Jammu and Kashmir to take stock of the situation arising out of militancy in the state. General Padmanabhan will visit forward areas and meet senior commanders and troops of various Rashtriya Rifles formations engaged in combating militancy.