Central package likely for paddy growers
LUDHIANA, Oct 9 — The Centre may come out with a relief package for the Punjab farmers who have been agitating for the past several days over the slow pace of paddy procurement by the FCI and other official procurement agencies in the state.
THE TRIBUNE MAGAZINES
On Mondays


On Sundays

On Saturdays

IN PASSING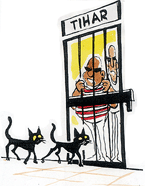 Black cats ? It seems our new inmate is a VVIP!

by Sandeep Joshi
PM admitted to Breach Candy
MUMBAI, Oct 9 — The Prime Minister, Mr Atal Behari Vajpayee, arrived in Mumbai this afternoon by a special Indian Air Force plane. He will undergo a knee transplant surgery at the Breach Candy Hospital tomorrow.


Mr Atal Behari Vajpayee is greeted by Maharashtra Chief Minister Vilasrao Deshmukh as Governor P.C. Alexander looks on at the domestic airport in Mumbai. Mr Vajpayee is to undergo a knee-joint replacement surgery at Breach Candy Hospital on October 10.
— AFP photo
Malleswari accuses coach of ill-treatment
Sandhu created problems on her selection
YAMUNANAGAR, Oct 9 — Karnam Malleswari, the lone medal winner for India in the Sydney Olympic Games, has blamed the previous Haryana Government for ignoring her talent. Talking to The Tribune at her rented house here last evening she said if the previous Haryana Government had provided the proper infrastructure, their would have been many medals for Haryana sportsmen/sportswomen.




Himachal raises age limit for jobs
SHIMLA, Oct 9 — Faced with the growing problem of naming educational institutions and village roads after martyrs of the terrorist operations, the state Cabinet today set up a three-member ministerial panel for the purpose and asked the partymen not to make promises in this regard.
EARLIER STORIES
(links open in a new window)
Uma raises banner of revolt
October 9, 2000
Farmers gherao Central team
October 8, 2000
Mamata withdraws resignation
October 7, 2000
80 pc of paddy defective: FCI
October 6, 2000
Vajpayee rules out immediate rollback
October 5, 2000
India, Russia forge strategic tieup
October 4, 2000
Mamata plans front sans BJP
October 3, 2000
Naik rules out cut in petro prices
October 2, 2000
PM expands ministry
October 1, 2000
Rao, Buta convicted in JMM bribery case
September 30, 2000
Putin's Pak visit raises eyebrows
September 29, 2000