Friday, October 13, 2000,
Chandigarh, India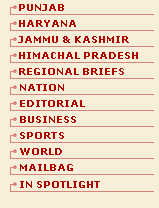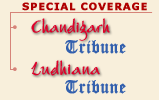 S P O T L I G H T
Curfew relaxed in Biharsharif
BIHARSHARIF, Oct 12 (PTI) — Curfew was relaxed in various police station limits here on Thursday as no untoward incident was reported in the riot-hit town since Tuesday, while Army and paramilitary personnel continued to patrol the streets. Nalanda District Magistrate, Rajesh Agarwal said curfew was relaxed for the first time for two hours in the worst-hit Sadar police station limit. It would be eased for four hours in Laheri and Sohsarai police station limits, he said.
Malayalam film on Mother Teresa
KOCHI, Oct 12 (PTI) — "The Gift of God", a Malayalam film based on the life of Mother Teresa, is on the cards. It will be directed by Shaji Thaikadan, film's producer K.J. Jaicob told reporters here on Thursday. The shooting will begin from December at various locales in Calcutta, Pondicherry and Kochi. Film actress Aswathy Menon is being cast in the Mother's role. Tamil thespian Shivaji Ganesan is among the cast.