Saturday, October 14, 2000,
Chandigarh, India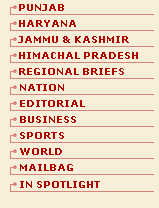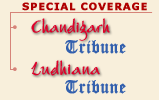 S P O T L I G H T
Kim gets Nobel Peace Prize
OSLO, Oct 13 (Reuters) — South Korean President Kim Dae-Jung today won the Nobel Peace Prize for his drive to improve ties with Stalinist North Korea and defuse a final flashpoint of the cold war. Mr Gunnar Berge, Chairman of the five-member Norwegian Nobel Committee, announced the award here and praised Mr Kim's ''sunshine policy'' for easing tensions on the divided Korean peninsula. The award, to be presented at a ceremony here on December 10, is worth $ 9,08,300.
Kesri shifted to ICU
NEW DELHI, Oct 13 (PTI) — Former Congress President Sitaram Kesri, who was yesterday admitted to Ram Manohar Lohia Hospital for treatment of a fractured leg, was today shifted to an intensive care unit (ICU) following breathlessness, hospital sources said. ''His condition deteriorated suddenly today and he was shifted to the ICU,'' the sources said.
Bihar tops in custodial deaths
NEW DELHI, Oct 13 (PTI) — A prisoner dies every two days in Bihar as the state heads the list of custodial deaths with 78 cases reported from the area in the first six months of the current year. Bihar is followed by Uttar Pradesh, 61 and Maharashtra, 60, according to latest figures compiled by the National Human Rights Commission. No cases of custodial deaths were reported from Chandigarh, Lakshadweep, Pondicherry, Goa, Andaman and Nicobar, Daman and Diu, Sikkim, Nagaland, Manipur and Dadra and Nagar Haveli.