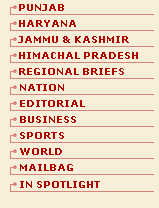 Tuesday, October 17, 2000, Chandigarh, India
5 Pak soldiers shot, attack repulsed
SRINAGAR, Oct 16 — At least five Pakistanis were shot and one Indian soldier was killed in a gunbattle in the northern sector of Jammu and Kashmir, an Army spokesman said today, even as a report from Jammu said that 10 civilian houses were damaged, two persons were injured and more than 10 cows wounded when Pakistani troops pounded four villages in Rajouri today.
How Vajpayee bailed out Badal
NEW DELHI, Oct 16 — Prime Minister Atal Behari Vajpayee bailed out Punjab Chief Minister Parkash Singh Badal from an impending political crisis by directing Union Finance Minister Yashwant Sinha and Union Public Distribution Minister Shanta Kumar to accommodate the Shiromani Akali Dal.
CAST YOUR VOTE
Should the government give incentives to paddy growers to store grain?