Wednesday, October 18, 2000,
Chandigarh, India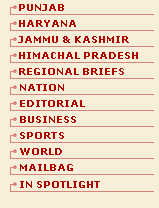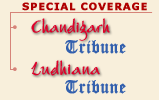 S P O T L I G H T
Missouri Governor dies in plane crash
GOLDMAN (Missouri), Oct 17 (AP) — Missouri Governor Mel Carnahan was killed in a plane crash, along with one of his sons, who was flying the plane, and a campaign adviser, a relative of the adviser said today. The Jefferson County Sheriff's Department said a plane believed to be carrying the Governor crashed in light rain and fog last night in a hilly wooded area, about 40 km south of St Lousin, in the USA.
Zoo in charge shifted
HYDERABAD, Oct 17 (PTI) — As a fallout of the security lapse in Nehru Zoological Park here in the wake of the recent killing of a tigress "Sakhi", the Andhra Pradesh Government has transferred its in charge. B. Trinadha Rao even as a high-level probe has established complicity of the zoo staff in the gruesome incident.
Kesri back on ventilator
NEW DELHI, Oct 17 (UNI) — Former Congress President Sitaram Kesri was put back on artificial respiratory support through a ventilator after developing breathlessness today, doctors said. Mr Kesri, admitted to the intensive care unit of Ram Manohar Lohia Hospital with pulmonary embolism, had been taken off the ventilator on Sunday night. However, he was put on the ventilator after he complained of breathless and showed bluishness around his fingers and nails.
Jabalpur rocked
JABALPUR, Oct 17 (UNI) — An earthquake measuring 5.2 on the Richter scale, with its epicentre at the Barela-Kumaria region, rocked Jabalpur and its adjoining areas in Madhya Pradesh early today, but no casualties or damage to property were reported. The quake, which occurred at 4.30 a.m. and lasted for about 10 seconds, shook buildings, tossing people out of their beds and forcing them to rush out of their houses.