Thursday, October 19, 2000,
Chandigarh, India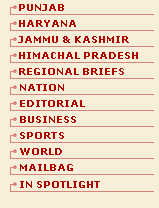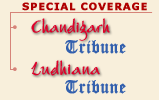 S P O T L I G H T

Govt cuts phone registration charges
NEW DELHI, Oct 18 (UNI) — In a bid to increase tele-density in the country the government today slashed registration charges for new telephone connections which will be effective from November 1. The registration fee of Rs 3,000 in urban areas will now be Rs 2,000 and in rural areas the rates have been cut from Rs 1000 to Rs 500, Communication Minister Ram Vilas Paswan today said. He said charges for the applications forms which used to cost Rs 10 will be done away with.
4 shot in Bihar
PATNA, Oct 18 (UNI) — At least four persons were gunned down by a criminal gang at Vishwanathpur village in Bihar's Nawada district today. Inspector-General of Police (Patna) Neelmani said here that four persons had also been abducted. He alleged that the massacre might have been executed by the gang of Akhilesh Singh, as a sequel to the recent slaying of two persons in the district.