Friday, October 20, 2000,
Chandigarh, India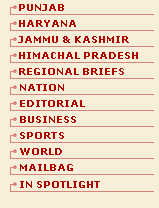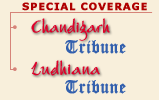 S P O T L I G H T
Another DA slab for Punjab staff
Tribune News Service
CHANDIGARH, Oct 19 — The Punjab Government today released another instalment of dearness allowance (DA) to its employees on the pattern of the Central Government. Capt Kanwaljit Singh, Finance Minister, said that the DA payable to the employees had been enhanced by 3 per cent from the existing rate of 38 per cent to 41 per cent with effect from July 1, this year. The payment will be made in cash. The state government has also decided to grant interest-free festival advance of Rs 1000 to its Class IV employees on the occasion of Divali. The salary and pension for the month of October would be disbursed before Divali — on October 24 and 25.
2 SC judges sworn in
NEW DELHI, Oct 19 (UNI) — Guwahati High Court Chief Justice Brijesh Kumar and Orissa High Court Chief Justice D.N. Agarwal were today sworn in as new judges of the Supreme Court. The oath of office was administered to them by Chief Justice A.S. Anand at a ceremony attended by the judges, law officers and advocates of the court.
Russian crew rescued
MOSCOW, Oct 19 (Reuters) — Twelve of the 20 crew members from a Russian fishing boat that sank in the Pacific were found alive aboard a raft today after 12 hours, an officer at Russia's Sea Rescue Centre said. Speaking from the port of Vladivostok, he said the 12 had been taken aboard the Ostrov Sakhalin, another fishing boat, and were in good condition.
Pak bus mishap
KARACHI, Oct 19 (AFP) — Five persons died today and 20 were injured, six of them seriously, when a crowded passenger coach crashed on a highway in south-western Baluchistan province, police and hospital sources said. The bus was on its way to Karachi from Bela district when the driver lost control, police officer Abdur Rehman said. "All five, including the coach driver, died on the spot," said Abid Patel, a volunteer with the Edhi welfare centre.