Sunday, October 22, 2000,
Chandigarh, India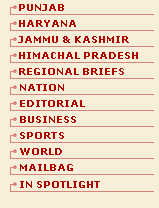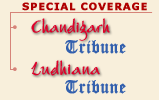 S P O T L I G H T
95 rebels killed in Lanka
COLOMBO, Oct 21 (PTI) — Ninety-five LTTE men and 13 government soldiers were killed in an aborted rebel attack on a military garrison in northern Jaffna peninsula, the Sri Lankan army said here today. While 80 rebels were killed during the attack on the garrison at Nagerkovil in the north-eastern part of the peninsula on Thursday, another 15 were killed when the naval craft destroyed three rebel boats.
9 of family dead
AHMEDABAD, Oct 21 (UNI) — At least nine members of a family, including three women, were killed and 29 others injured when their tempo overturned after the driver swerved to avoid hitting a cow in Navsari district, 250 km from here, late last night. The police said the driver of the tempo was negotiating a turn when he noticed the cow. He turned but hit a tree instead.
US envoy on Pak ties
ISLAMABAD, Oct 21 (PTI) — Pakistan's full ties with comity of nations cannot be restored until Islamabad returns to democracy, US envoy to Islamabad has said. "Dialogue yes, but full ties cannot be achieved with the comity of nations until Pakistan returns to democratic rule," the envoy, Mr William Milam, said.
Accountant held
NEW DELHI, Oct 21 (PTI) — The CBI has arrested Sheesh Ram Saini, the accountant of the 12 companies floated by family members of former Enforcement Directorate Deputy Director Ashok Kumar Aggarwal, for allegedly helping him launder his ill-gotten money, CBI sources said here today. Saini, who was called to the CBI Headquarters for questioning , was arrested at 8.20 p.m. yesterday, the sources said.