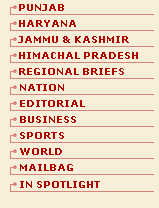 Tuesday, October 24, 2000, Chandigarh, India
Updated at 3 am (IST)
ULFA militants massacre 15
GUWAHATI, Oct 23 — In a major strike in recent times, ULFA militants gunned down 15 persons, mostly petty traders and cultivators, in two strikes in upper Assam's Tinsukia and Dibrugarh districts late last night, senior police officials said.
I lied at Bibi's behest: witness
NEW DELHI, Oct 23 — In a significant development in the Harpreet Kaur death case, a key witness has told a Judicial Magistrate under oath that he had given "false statements" to the CBI at the behest of SGPC President Bibi Jagir Kaur.
CAST YOUR VOTE
Should we give money to charities instead of spending it on crackers?