Tuesday, October 24, 2000,
Chandigarh, India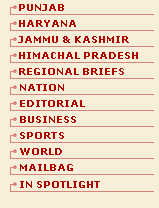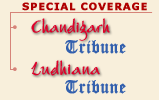 S P O T L I G H T
Goa People's Congress splits
PANAJI, Oct 23 (UNI) — The crisis-ridden Francisco Sardinha government, which was preparing for a trust vote in the Assembly tomorrow, suffered a further jolt tonight when four ministers belonging to the Goa People's Congress resigned and asked the Speaker to recognise them as a separate group in the House. The latest revolt against Mr Sardinha's leadership was led by Panchayat Minister Venkatesh A Desai, who along with Industries' Minister Alex Squeira, Agriculture Minister Arecio d'Souza and Law Minister Francis d'Souza met Governor Mohammad Fazal and handed over their resignations from the ministry.
Kesri's condition serious
NEW DELHI, Oct 23 (UNI) — Former Congress President Sitaram Kesri's condition worsened this evening and he was put on artificial respiratory support through a ventilator in the intensive care unit of AIIMS here. A spokesman for AIIMS said Mr Kesri was "seriously ill" and was put on ventilator this evening because of worsened condition on account of pneumonia, chest infection and pulmonary embolism. Earlier, Union Agriculture Minister Nitish Kumar and Congress MP Suresh Pachauri today visited the veteran Congress leader to inquire about his health.
5 kids die in blast
ISLAMABAD, Oct 23 (DPA) — Five children were killed today when a bomb exploded near the northwestern Pakistani town of Charsadda, state-run television reported. The bomb was placed on the open ground and exploded when children started playing with it on returning from school. It killed two of the children instantly. The others succumbed to their injuries in hospital.