IN PASSING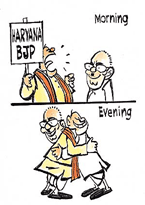 I hope you don't mind what I told about INLD!

Giani's widow without source of income
PHAGWARA, Oct 27 — In a trip down memory lane, Ms Pardhan Kaur, widow of former President Giani Zail Singh, today reminisced over her days of "Raj-Bhag" (political power). In a chat with this reporter at the local Vishvakarma Mandir, the 82-year-old Pardhan Kaur expressed her disappointment with the powers that be saying ever since the death of Gianiji, she had been totally ignored.
CM's kin in land controversy
FEROZEPORE, Oct 27 — The allotment of central government land near the Indo-Pakistan border to the relatives of Punjab Chief Minister Parkash Singh Badal has sparked protests from farmers, who have been tilling it up until now.


Takht not to summon Kamaljit
AMRITSAR, Oct 27 — Even as some pro-Bibi Jagir Kaur members submitted a memorandum to Akal Takht Jathedar for taking strict action against her political rivals today, Giani Joginder Singh Vedanti ruled out the possibility of summoning Kamaljit Singh (who claimed to have married Harpreet Kaur), his parents Mr Darshan Singh and Balwinder Kaur, Mr Sukhjinder Singh, a former Akali minister and his son Mr Sukhpal Singh Khera, PPCC secretary at Akal Takht.
EARLIER STORIES
(links open in a new window)
Rajnath invited to form govt
October 26, 2000
Rajnath to replace Gupta as
Uttar Pradesh CM
October 25, 2000
ULFA militants massacre 15
October 24, 2000
Advani rules out talks on J&K
October 23, 2000
2 BSF jawans die as IED explodes
October 22, 2000
Power panels must for incentives
October 21, 2000
17 militants killed in J&K
October 20, 2000
12 top militants surrender
October 19, 2000
Israel, Palestine agree to end violence
October 18, 2000
5 Pak soldiers shot, attack repulsed
October 17, 2000