Saturday, October 28, 2000,
Chandigarh, India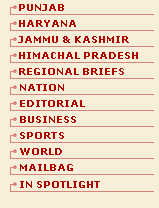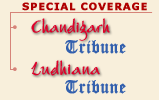 S P O T L I G H T
26 of family die in accident
KHATIMA (UP), Oct 27 (PTI) — Twentysix members of a Sikh family on their way to a pilgrimage were feared drowned when a tractor trailer in which they were travelling fell into a canal, 100 km from Nainital, last night, the police here said today. In all 37 members of the family from Mailani village in Lakhimpur Kheri were on their way to Nanakmata shrine in the neighbouring Udham Singh Nagar district when the accident occurred. Four bodies have been recovered so far, 11 have been rescued and search operations for others are on, the police said. Among the 26 feared drowned were children (nine), women (eight) and men (nine). A fisherman, who was sleeping near the canal, rescued 11 persons, the police said. The accident occurred when the hook connecting the trailer broke and it fell in the Sharda canal.
Cyclone alert in West Bengal
CALCUTTA, Oct 27 (UNI) — The West Bengal Government today sounded a general alert in the coastal as well as some other districts of the state in view of a cyclone in the Bay of Bengal but meteorological sources in Bhubaneswar said it was a "depression" which may cause heavy rains in the Orissa coast. Finance Minister Asim Dasgupta told reporters here that the cyclone lay centred 400 km from Calcutta in the Bay of Bengal and was likely to move in the north-westerly direction. He said people living in the low lying areas of Midnapore, North and South 24-Parganas, Hooghly, Howrah and Nadia districts had been asked to move to safer places. The fishermen had been asked not to venture out in the sea in the next 24 hours.
Chhattisgarh HC
NEW DELHI, Oct 27 (UNI) — To pave the way for the formation of the new government in Chhattisgarh, President K.R. Narayanan today issued a notification to set up the Chhattisgarh high court, which would be the 19th high court of the country. The court will function from Bilaspur from November 1. The Bill to carve out Chhattisgarh state was passed in Parliament in the monsoon session.
Work on Narmada Dam
NEW DELHI, Oct 27 (PTI) — The Centre today announced that the construction work on the controversial Sardar Sarovar Dam on Narmada river would recommence on October 31, the 125th birth anniversary of Sardar Patel, following the Supreme Court's green signal to raise its height to 90 metres. "Consequent upon the verdict of the Supreme Court on October 18 to raise the height of the Sardar Sarovar Dam the current height of 88 metres to 90 metres, the government is going ahead to recommence the construction work at the dam site from October 31," an official release here said.