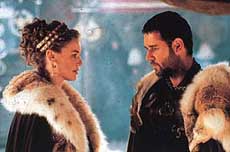 Gladiator is about the triumph of good over evil, an absorbing tale of revenge, transporting the viewer back over 2000 years and director Scott is able to endow the dry bones of history with flesh and blood so that they throb with life and pulsate with passion. "If only you had been a man, what a Caesar you would have made?" Aurilius tells his charming daughter Lucilla (Connie Nielsen) because of his lack of faith in Commodus. But Lucilla is always in the shadow of her corrupt and incestuous brother who nips in the bud whatever romance may have blossomed between Maximus and her. But how long can a good man be put down by the forces of evil? It is a common theme of the Roman epic but Gladiator deal with it with a candidness and sensitivity of 21st century thought, lucidly scripted by David Franzoni whose brilliant lines become a virtual glossary of quotable quotes and give the film its most meaningful moments.
It is somewhat surprising that Scott should have chosen a historical subject after revelling in futuristic (Alien and Blade Runner) and human (Thelma and Louise) dramas, but in Gladiator he is equally at home with the subject and uses special effects to recreate ancient ambience. The sets are believed to have been made in India, which surely is a feather in our cap. The vast battle scenes with thousands of extras are adeptly handled and the sumptuous treat of action, suspense and high drama is bound to keep the viewer engrossed right through its 180 minutes duration.
A gladiator is a trained fighter in a Roman arena and director Scott must have done extensive research to bring out the plethora of combats that take place in the Coliseum, notorious as the venue where Christians were thrown to the lions. The lions also find their way into the film as do the tigers and other animals that are part of the human entertainment, to say nothing of the mob which played such an important role in the functioning of the Roman Empire.
May be the characters lack shades of grey but they seem to fit in with the plot steeped in righteous indignation. In a film heavy with sets and ambience, Russell Crow turns in an impeccable performance which puts him in Hollywood's big league of actors. After bit parts in films like La Confidential, he won a Best Actor Oscar nomination for his role as an anti-smoking crusader in The Insider. The Gladiator role is quite different but that only proves his versatility.
Joaquin Phoenix lends able support as the debauched and devious emperor even though he may not have matched Peter Ustinov's Nero is Quo Vadis, he surely earns his moments of repulsiveness. Connie Nielsen has precious little to do apart from casting telling glances at the hero but she has the good looks to provide feminine relief in the male-dominated cast. Hiding behind disguise and age, Richard Harris is recognisable more by his voice and of course he hogs the best lines and Oliver Reed, who dies during the shooting of the film, is convincing as the cynical slave trader in a cameo which proved to be his swansong, so different from the robust Bill Sykes he played in the decades ago musical, Oliver.
Gladiator is a lavishly mounted epic in the best tradition of Roman-Hollywood and is thoroughly engrossing and entertaining. Not to be missed.