Monday, October 30, 2000,
Chandigarh, India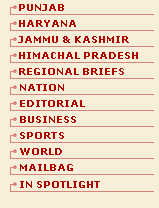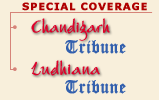 S P O T L I G H T
29 LTTE men killed
COLOMBO, Oct 29 (PTI) — Twentynine LTTE rebels were killed and 11 Sri Lankan soldiers injured in a pre-dawn offensive by the army to regain control of some of the strategic locations in northern Jaffna peninsula this morning. The Sri Lankan troops attacked rebel defences at Muttuvil in the peninsula and captured well fortified bunkers, an army press release said. An officer was among the soldiers injured. In Nuwera Eliya, curfew was clamped this afternoon following violence when a group of people forced others to hoist a white flag as a mark of respect to one of the victims killed in the detention camp massacre on Wednesday last.
More hooch cases
THIRUVANANTHAPURAM, Oct 29 (UNI) — Nine more persons were hospitalised after they consumed illicit liquor in this district, even as state-wide raids on hooch dens were conducted today. Nine persons were admitted to the medical college hospital from various parts of the district, including four from Neyyattinkara, after they consumed illicit liquor. The condition of one person was stated to be serious.
CLP meeting
NEW DELHI, Oct 29 (PTI) — AICC general secretary Prabha Rau left for Raipur this evening to oversee the crucial meeting of the ruling Congress Legislature Party there tomorrow to elect its leader, who would be the Chief Minister of the new state of Chattisgarh. The tribal-dominated Chattisgarh, which forms part of Madhya Pradesh, would come into existence on November 1. Before her departure, Ms Rau had a meeting with party President Sonia Gandhi.