Tuesday, October 31, 2000,
Chandigarh, India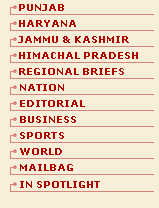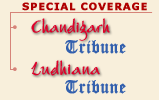 S P O T L I G H T
Former minister of Lanka held
COLOMBO, Oct 30 (PTI) — The Sri Lankan police today arrested former minister and opposition MP, P. Chandrikasekharan for allegedly instigating communal riots between Sinhalese and Tamils of Indian origin in Nuwara Eliya district yesterday even as sporadic clashes between the two communities continued despite the curfew, official sources said. They said Chandrasekharan, who won the recent parliamentary poll on the UNP ticket, was detained under a charge of disturbing communal harmony by instigating attacks.
N-weapons
MUMBAI, Oct 30 (PTI) — Since the 1998 Pokhran blasts, India has made significant advancement in developing nuclear weapons and can now design and build 200 kilotons of such weapons, Atomic Energy Commission Chairman Dr R. Chidambaram said today. These tests "gave us capability to design and fabricate nuclear weapons of low-yields up to 200 kilotons," he said at a function at Bhabha Atomic Research Centre on the occasion of its founder Homi Bhabha's 91st birth anniversary here.