Thursday, November 2, 2000,
Chandigarh, India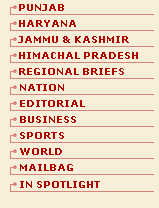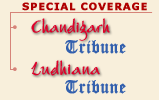 E D I T O R I A L P A G E
| | | |
| --- | --- | --- |
| | EDITORIALS | |
Bold indictment
THERE are two extreme views on the issue of human rights in the state of Jammu and Kashmir. While the Pakistani propaganda machine wants the world to believe that a systematic elimination of Kashmiris is going on, the Indian line has been that all reports of human rights violations are figments of the imagination of the enemies of the country.
The shrinking rupee
TWO unintended actions have dragged down the rupee against the dollar. One was a statement by Finance Minister Yashwant Sinha in the USA last week that the high crude prices would seriously affect the Indian economy. An already nervous currency market read too much into it and the rupee's steady fall became a rout all of last week.
Taking care of roads
SINCE roads constitute the crucial lifeline for any economy, the Union Cabinet has done well by deciding to create a proper mechanism not only for the maintenance and development of this infrastructure but also to prevent the frittering away of the funds earmarked for the purpose.
Azhar, Ajay and avarice
November 1, 2000
Contest, no challenge
October 31, 2000
Kanishka: end of a long wait
October 30, 2000
Do we deserve this police?
October 29, 2000
Who is afraid of poll?
October 28, 2000
Change of guard in UP
October 26, 2000
Historic handshake
October 25, 2000
Left out in the cold
October 24, 2000
Raiders are here
October 23, 2000
Fiasco at Sydney: Is IOA responsible?
October 22, 2000