Friday, November 3, 2000,
Chandigarh, India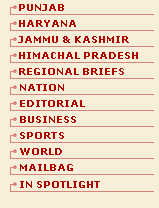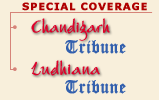 S P O T L I G H T
Lakshya testfired
BALASORE, Nov 2 (PTI) — The indigenously built unmanned air vehicle (UAV), Lakshya, was successfully test fired today from the Interim Test Range at Chandipur-on-Sea, about 15 km from here, according to official sources. Developed by the Defence Research and Development Organisation, Lakshya is designed for aerial battlefield reconnaissance, including target acquisition.
10 die in crossfire
IMPHAL, Nov 2 (PTI) — At least 10 civilians, including a woman, were killed and seven injured in a crossfire during an encounter between militants and Assam Rifles personnel on the Imphal Airport road here today, official sources said.
Pak air force chief
ISLAMABAD, Nov 2 (PTI) — Pakistan's military regime today named Air Marshal Mushaf Ali Mir, who was among the top officials who took part in the 1971 Indo-Pak war, as the Chief of the Air Staff, an official statement here said.