The film was very well received. Kavitha went on to make documentaries on different subjects largely depicting life in Karnataka.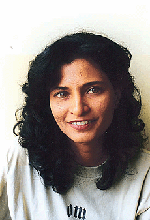 I asked Kavitha about her career. She has done her postgraduation in English literature from Bangalore University. When she was 16, her father suggested she got married and started assembling jewellery for her dowry. She persuaded him to give her the money to travel and see the world. He agreed. So she went all alone over Europe and the USA. Ultimately she agreed to give marriage a try. It did not work out. "I have tried my hand at marriage but I felt the loneliness. I felt that the loneliness within the confine of a marriage was much more than now when I am really alone. Probably because loneliness within company is much more than the solitude of the present," she said.Kavitha lives in a sparsely inhabited suburb of Bangalore. Her mother runs a saree store in the city. For company she has two German Shepherds who accompany her when she goes jogging in the early hours of morning. Then she does yoga asanas for one and a half hours. That explains her suppleness. "Believe me I am like rubber and it comes to use for some strategic positions," she says somewhat naively.
Kavitha admits to having a quick temper and "a bitchy way with words". She has her allergies: foods, unpunctuality, liars, horn-happy drivers and people unkind to dogs. I share most of them but have learnt to put up with fools. I am not quick-tempered but have a large vocabulary of Punjabi abuses. She is somewhat confused about religion. She is a Lingayat, reads Basavannaís vachanas, Panchatantra tales and P.G.Wodehouse. She quotes Somerset Maugham. "I am a deeply religious person who doesnít believe in God." That goes for me as well. "I get easily bored with people", she says. So do I. We are kindred spirits, 50 years and 1500 miles apart.
Travelogue
Elizabeth is a Belgian married to an Indian Muslim from Bhopal. She, her husband and children are settled in Canada. Once a year she visits her parents in Belgium. Elizabeth is blissfully happy being Mrs Khan because despite being married over 20 years, she is still very much in love with her Indian husband and his country. Some days back she wrote to me from Belgium, enclosing a poem on her first visit to the Taj Mahal. I quote a few verses from it:
He wanted to show me the Taj Mahal, he said
Eternal monument to Love Eternal
And so it was that on the hottest day
Of the hottest season we set off
In his ancient Ambassador
On the dusty road to Agra
My face soon turned the colour
Of tandoori chicken
Cooked alive, I did not complain
I was in love.
Our progress was slow, too slow he felt
He honked impatiently at a herd of goats
Ahiste, Sardarji, Ahiste, the goatherd chuckled
The Taj has been there for a hundred years
Or more, it will still be there tomorrow
Such insolence from a mere village boy
He said, and I thought, such wisdom
* * *
Even the Third World
is not equally third all over
When we were driving again
He asked me what I was looking at
So intently, and I said: Your country
I am soaking it up in my every pore
And will carry it with me forever
Its colours and its scent and most of all
This mood By the entrance to the Taj Mahal
A vendor with two pitchers
Water for Hindus and water for Muslims
We Sikhs can drink either, he said,
But personally, I prefer Coca-Cola.
* * *
The Taj, they say, is crumbling now
Its blinding sheen grown dull and gray
Once solid stone turned brittle, porous ...
And I have long ceased to believe
In tales of kings and queens
And love that lasts forever
For nothing wrought by human hands
Or hearts, I found,
Can claim to be eternal.
Israeli humour
Israelis tell stories at the expense of Arab leaders. A young Israeli woman gave birth to a seven-pound boy in a hospital in Jerusalem. "Good morning," smiled the nurse, "So you are the mother of a fine seven-pound boy?"
"Thatís right."
"What are you going to name him?"
"Arafat".
"Arafat?" the nurse blanched. "Are you kidding?"
"Nope."
"I .... I never heard of an Israeli mother calling her child by that hateful name. Does your husband also like that name?"
"I am not married," said the young mother.
(Contributed by Judson K. Cornelius, Hyderabad)