Sunday, November 5, 2000,
Chandigarh, India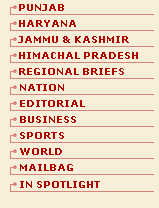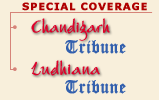 S P O T L I G H T
INSAT-2B
BANGALORE, Nov 4 (UNI) — India has virtually lost the services of its multipurpose satellite INSAT-2B, which after more than seven years in orbit, has lost its earth lock, according to ISRO sources. The satellite went out of earth lock at about 2.30 p.m. yesterday and engineers at the INSAT Master Control Facility at Hassan were working to recover the satellite.
4 Chhota Rajan men held
MUMBAI, Nov 4 (PTI) — Four members of the Chhota Rajan gang were nabbed at Dahisar in north Mumbai on the charge of trying to extort money from a builder, the police said today. An STD booth owner and a cable operator were apprehended on October 30 at the Dahisar checkpost. They had been in constant touch with Pawan Sharma and O.P. Singh of the Chhota Rajan gang. Two other members of the gang were nabbed on November 2.
Politician shot dead
KUALA LUMPUR, Nov 4 (AFP) — A Malaysian state assembly member and doctor was today shot while he was driving home from his clinic. The police said Joe Fernandez, (54) died in a hospital after being shot three times by two men who pulled alongside on a motor cycle at Bukit Mertajam in the northern state of Penang. Fernandez was a member of the Malaysian Indian Congress party and represented Lunas in the neighbouring state of Kedah.
4 offices set on fire
IMPHAL, Nov 4 (PTI) — Four government buildings were set on fire yesterday by unidentified miscreants at different places in Sawombung and Sagolmang areas of Manipur's Imphal (East) district, as the indefinite curfew remained in force, official sources said today.
Greek bus hijacked
ATHENS, Nov 4 (Reuters) — At least 50 Japanese tourists were today taken hostage in a bus, 50 km from Athens, and their hijacker was taking them towards the Greek capital, the police said.
3 TC men killed
MIDNAPORE, Nov 4 (PTI) — Three Trinamool Congress (TC) activists were killed, 45 houses set afire and 35 shops looted in renewed violence between TC and CPM activists in Midnapore district today, the police said. Two TC activists were shot dead at Kelegeria village this afternoon. Earlier, a 24-year-old man was killed in a gunbattle at Agna village.
Hostages freed
ATHENS, Nov 4 (Reuters) — A Greek gunman surrendered to the police today and freed 35 persons mainly elderly Japanese tourists, he had held hostage in a bus for nearly nine hours, the police said.