Monday, November 6,
2000,
Chandigarh, India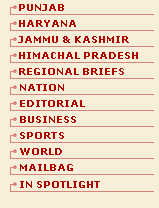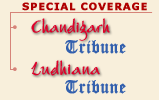 S P O T L I G H T
100 Indian teachers for UK schools
LONDON, Nov 5 (PTI) — At least 100 Indian teachers have been recruited in UK schools to overcome the acute shortage of teaching staff in the country. The Indian teachers will take up permanent jobs in the UK in the next term and each will earn about £ 20,000 per annum, The Sunday Times reported today.
Garekhan elected to UN panel
UNITED NATIONS, Nov 5 (PTI) — India's C.R. Garekhan has been elected as a member of a crucial UN committee that decides on the contentious issue of contribution by member states to the world body. Mr Garekhan, a UN veteran, was elected to the committee by acclamation on Friday.
Joshi in Beijing
BEIJING, Nov 5 (PTI) — Mr Murli Manohar Joshi, Minister for Human Resource Development and Science and Technology, arrived here today on an official visit to seek promotion of Indo-China cooperation in education and other spheres.