THE TRIBUNE MAGAZINES
On Mondays


On Sundays

On Saturdays

IN PASSING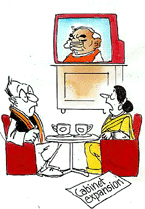 If he really wants to provide a strong government then he should induct Malleswari also!

C. Subramaniam passes away
CHENNAI, Nov 7 — Elder statesman C. Subramaniam, who guided the country's Green Revolution, and was decorated with the highest civilian award of Bharat Ratna and a relentless campaigner for purity in public life, died today following a brief illness.
Cong men leave it to Sonia
CHANDIGARH, Nov 7 — Keeping in line with the age-old tradition of sycophancy in the party, the Haryana Congress today left the issue of appointment of its President and other office-bearers to Ms Sonia Gandhi, who herself is locked in an electoral battle with Mr Jitendra Prasada for the post of party chief.
Manmohan, Natwar deny coterie
CHANDIGARH, Nov 7—Dr Manmohan Singh and Mr Natwar Singh, senior Congress leaders, today denied that there was any coterie surrounding Ms Sonia Gandhi in the party as alleged by another senior party leader, Mr Jitendra Prasada.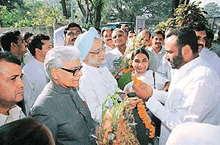 Congress elections
(Edit page)



Haryana Congress workers present bouquets to Mr Manmohan Singh and Mr Natwar Singh at the party office in Chandigarh on Tuesday. — Tribune photo by Pankaj Sharma
Farmers, wildlife staff lock horns
HARIKE (Ferozepore), Nov 7 — A fresh move of the wildlife staff to prevent encroachments inside the Harike bird sanctuary here has evoked protests from a section of local farmers, who have been tilling the land inside the restricted area for years together.
JMM snaps ties with NDA
November 7, 2000
4 soldiers killed in suicide attack
November 6, 2000
29 killed, 46 hurt in valley
November 5, 2000
J & K minister's brother
killed in blast
November 4, 2000
Cabinet clears DTH service
November 3, 2000
Azhar, Ajay Sharma may be prosecuted
November 2, 2000
CBI names nine foreign cricketers
November 1, 2000
CBI names Jadeja, Azharuddin, Prabhakar
October 31, 2000
Jitendra Prasada dares
Sonia Gandhi
October 30, 2000
12 Pak soldiers killed,
20 injured
October 29, 2000
Jyoti Basu to quit on Nov 7
October 28, 2000