Wednesday, November 8, 2000,
Chandigarh, India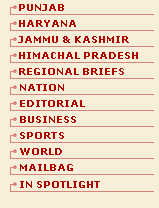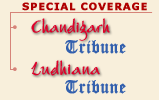 S P O T L I G H T
Maran's condition stable
CHENNAI, Nov 7 (PTI) — Union Commerce and Industry Minister Murasoli Maran, admitted in Apollo Hospital here since October 28, today had an "abrasion" in his heart rhythm, but it was corrected with appropriate medication, hospital sources said. Maran, who was admitted for a "migraine episode" initially, had a "special type of temporary cardiac pacing" carried out on him last night and it had "significant benefits", hospital Chairman, Dr Prathap C. Reddy, told newsmen today.
Currency racket
NEW DELHI, Nov 7 (PTI) — In a swift operation, officials of the Enforcement Directorate (ED) have unearthed a foreign currency racket with the nabbing of a person from New Delhi Railway Station last evening. Acting on a tip-off that foreign exchange was being carried to other parts of the country in violation of the FEMA provisions, the ED mounted surveillance and seized US dollars amounting to Rs 22 lakh from a person, ED Special Director K.R. Bhargava said in a press note today.
Queen Ingrid dead
COPENHAGEN, Nov 7 (DPA) — Denmark's Swedish-born Queen Mother, Queen Ingrid, a strong personality behind the scenes in the royal family and court, died today, the royal court announced. Ingrid, a great granddaughter of British Queen Victoria (1818-1901) and daughter of the late Swedish King Gustaf VI Adolf, was born in Stockholm on March 28, 1910. In 1935 she sealed a new Danish-Swedish connection by marrying Denmark's Crown Prince Frederik, who succeeded to the throne as King Frederik IX. The young Swedish princess was a dedicated sports woman and an amateur actress.